| Welcome | David John | Comstock Cowboys | Products | Order Form | Shirts | Calendar | Booking | Contact | Calico | Links |
| Feedback | Fan Club |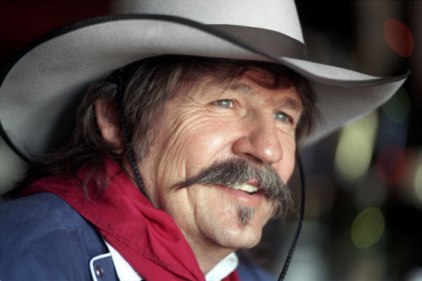 Marilyn Newton Photograph
David John was nominated songwriter and entertainer of the year by the Western Music Association. He brings his knowledge of western heritage, cowboy legends, Wild West history, and fast horses into his songs. He seems to have a knack for bringing the old west out of every one of us. Through his songs we find ourselves going back to a simpler place and time. His songs seem to reach out and touch even those who aren't sure what western music is all about. His rich baritone voice, coupled with his original songwriting is a once-in-a-lifetime combination. Some of his most acclaimed original compositions are "Comanche of the 7th Calvary" and "The Cowboy was the Hero". They have generated CD sales never before seen by an independent label. David John has found a very special place in the western music genre. With his band the Comstock Cowboys, they are rapidly becoming the No.1 western music act in the country. Their concerts are very special events. Fans come from all over the world to see the old west come alive right in front of their very eyes, with each of the band members wearing 1800s period outfits: spurs and jingle bobs, wooly chaps, six guns and all. David John and the Comstock Cowboys portray the old west with their traditional songs such as "Ghost Riders in the Sky", "Cool Water" and everybody's favorite song "Cattle Call". Listener's walk away feeling like they were in the old west just for a moment in time.
What will be the next big trend in music? Who knows, but one thing is for sure - in today's fast paced world where music and entertainment seems to be leaving many of us behind David john and the Comstock Cowboys fans seems to be growing in large numbers. They find their music new and refreshing - yet familiar, like spending a day in the country with an old friend.


David John and David John and the Comstock Cowboys Albums
I Was Never Alone, Aztec Records, 2009 ........Break it to the Cowboy, Aztec Records, 2007 ........Gather 'round Cowboy, Aztec Records, 2005 ........Nashville Sessions, Aztec Records, 2003 The Boys of the 50's, Aztec Records, 2003
Cowboy's, Old Fiddles and Wine, Aztec Records, 2002
Legends of the West, Aztec Records, 2001
Christmas in the Sierra, Aztec Records, 1999
Calico, Aztec Records, 1999
Songs of the Old West, Aztec Records, 1998
Runaway Train, Aztec Records, 1998
Those Old Songs, Aztec Records, 1979
Stranger Lost In Time, Aztec Records, 1979
Indian Summer, Aztec Records, 1976
Startin' All Over Again, Subtown, 1975
Hell Cats Movie Sound Track, Capital/Tower, 1969
David John Singles
The Boys From the Fifties, Aztec,
B/W Tragedy, Aztec
You Don't have to be From Dixie, Aztec
B/W I'm Not That Good at Saying Goodbye
She's Getting Over Me, Aztec
Bye Bye Baby, Boss City
Long Ride Home, Taurus T-100
Dance, Dance, Little Girl, Dance, Sinclair .1005
Heather, Subtown
Shannon, Columbia
Cherry Berry Baby, Columbia
Legend of the Seagull, Subtown St. 301A
She Likes Older Boys, 20th Fox
Can't Get a Date, 20th Fox
Love is Strange, Audicon
Hell Cats, Capital/Tower
The Only Way to Fly, Capital/Tower
Strictly Polynesian, Audicon

Copyright ©2015 David John and the Comstock Cowboys
All rights reserved.