| Welcome | David John | Comstock Cowboys | Products | Order Form | Shirts | Calendar | Booking | Contact | Calico | Links | Feedback | Fan Club |


To order products click on the order form page.


OUR NEW CD "SONGSLINGER" IS OUT ORDER IT TODAY

1. Songslinger
2. This Old Coyote Town
3. Lone Star Night, Nashville Days
4. Some Old Hank Williams Song
5. El Paso
6. Smoke that Cigarette
7. Winter Wine

8.Poncho and Lefty
9. The Bottom of the Cold, Cold Mine
10. The Last Cowboy Waltz
11. A Hopeless Rollin Stone
12. Let the Ocean Be My Cradle
13. Statue of a Fool
14. Slot Machine Junky

I Was Never Alone
An Inspirational CD Featuring:
1) I Was Never Alone
2) Seven Spanish Angels
3) My Stained Glass Window
4) Summerland
5) Great Speckled Bird
6) Let's Go Down To The River
7) Desert Rosie
8) Little Wooden Church In The Pines
9) God Must Be A Cowboy
10) There's Got To Be Something More
11) Wayfaring Stranger
12) Master's Train
13) Give Mother A Rose
14) Amazing Grace

Break it to the Cowboy
1) Break it to the Cowboy
2) Big Iron
3) Montana out in the cold
4) The Duke
5) Saturday night in a Cowboy Town
6)My Ol' Guitar
7) Rolling down Rt.66

8) Rollin' like a Tumble weed through Texas
9) Santa Anna Wind
10) Rocky Mountain Railroad Blues
11) Sixteen Tons
12) Mississippi River Queen
13) Once in a Bluegrass Moon
14) Orange Blossom Special
Gather round Cowboys
1) It's the Cowboy Life For Me
2) Gather 'round Cowboys
3) Freight Train Blues
4) A Song Of A Rebel Soldier
5) Outlaw
6) Tropical Cowboy
7) Morgan's Last Ride

8) Cadillac Moon
9) The Cowboy In His Heart
10) The Ghost Of Laredo
11) Swing Me Back To Texas
12) Wyoming
13) Stardust On The Trail
14) Cowboys And Aliens

Cowboys, Old Fiddles, and Wine
1)You Can't Keep An Old Cowboy Down
(30 Second Sample)
2) Tomb Of The Unknown Cowboy
3) River Of No Return
4) Bury Me Not On The Lone Prarie
(30 Second Sample)
5)Waltz Of Nevada
6) Tying Knots in the Devils Tail

7) My Rifle My Pony and Me
8) The Days of 49
9) Julia Bulette
10) Tumbling Tumbleweeds
(30 Second Sample)
11) Return To The Red River Valley
12) A Little Bit of Texas in my Bow
(30 Second Sample)

Legends of the West
Songs Of The Old West
1) The Trail Of The Bandit
(30 Second Sample)
2) Shenandoah
3) Calico
4) Comanche (Of The 7th Cavalry)
(30 Second Sample)
5) Cowboy Bill
6) The Sun's Going Down On The Old Chisholm Trail
(30 Second Sample)

7) I Got Spurs That Jingle, Jangle, Jingle
8) Take Me Back To My Boots and Saddle
9) Riders In the Sky
(30 Second Sample)
10) Goodbye Sierra Madre (The Trail of the Bandit, part 2)



David John The Nashville Sessions
1) Southern Lady
2) I'm Not That Good At Saying
Goodbye
(30 Second Sample)
3) Music City Dream
(30 Second Sample)
4) All I Really Need
(30 Second Sample)
5) Good To The Last Tear Drop
(30 Second Sample)
6) I Don't Want To Play Anymore


7) The Band Played A Cheatin' Song 8) I'm Gonna Wash Her Memory
9) A Women Possessed
10) Eight Mile River
11) Let The Lovin' In
12) You Made A Believer Out Of Me
13) She's Getting Over Me
14) You Don't Have To Be From Dixie

Calico Soundtrack of the hit wild west music
1) On A Night Like This
2) That's When I Miss Her Most
3) What am I Doing in this
Cow town
(30 Second Sample)
4) Calico
5) Texas rag
6) Sun's Going Down On The
Old Chisholm Trail
7) Red River

8) El Dorado
(30 Second Sample)
9) Shotgun Wedding Song
10) Take The Money and Run
11) The Man From Yuma
12) They'll Never Take The
Cowboy Out Of Me
(30 Second Sample)
13) Sure Was A Hellava Town
14) Where You Going Cowboy

Christmas In The Sierra
1) Silent Night
2) Christmas In My Home Town
(30 Second Sample)
3) Christmas In The Sierra
(30 Second Sample)
4) Jingle Bells
5) Christmas on the Trail
6) Winter Wonderland/Carol of the Bells
7) Down Bethlehem Way
(30 Second Sample)
8) Fiddle town
9) The Beautiful Christmas Waltz
10) Christmas The Cowboy Way/
Beer Barrel Polka
11) When Winter Comes To
Tahoe
12) A Rancher's Christmas Prayer



Boys From The 50's
1) Those Old Songs
2) Mr. Blue
3) Lawdy Miss Clawdy
4) Love Is For Hero's
5) You Belong To Me
6) Sea Cruise
7) I Should Be Over You By Now
8) Come And Go With Me
9) Tragedy
10) The Boys From The 50'
Patriot Edition
1) The Wall
2) Ragged Old Flag
3) Goodbye America
4) Meet Mr. & Mrs. America
5) Ode to the Confederate Flag
6) The Cowboy was the Hero
7) What Happened to America
8) No Country Boys left in Nashville
9) The Duke

$12.00 includes shipping and handling


OUR DVD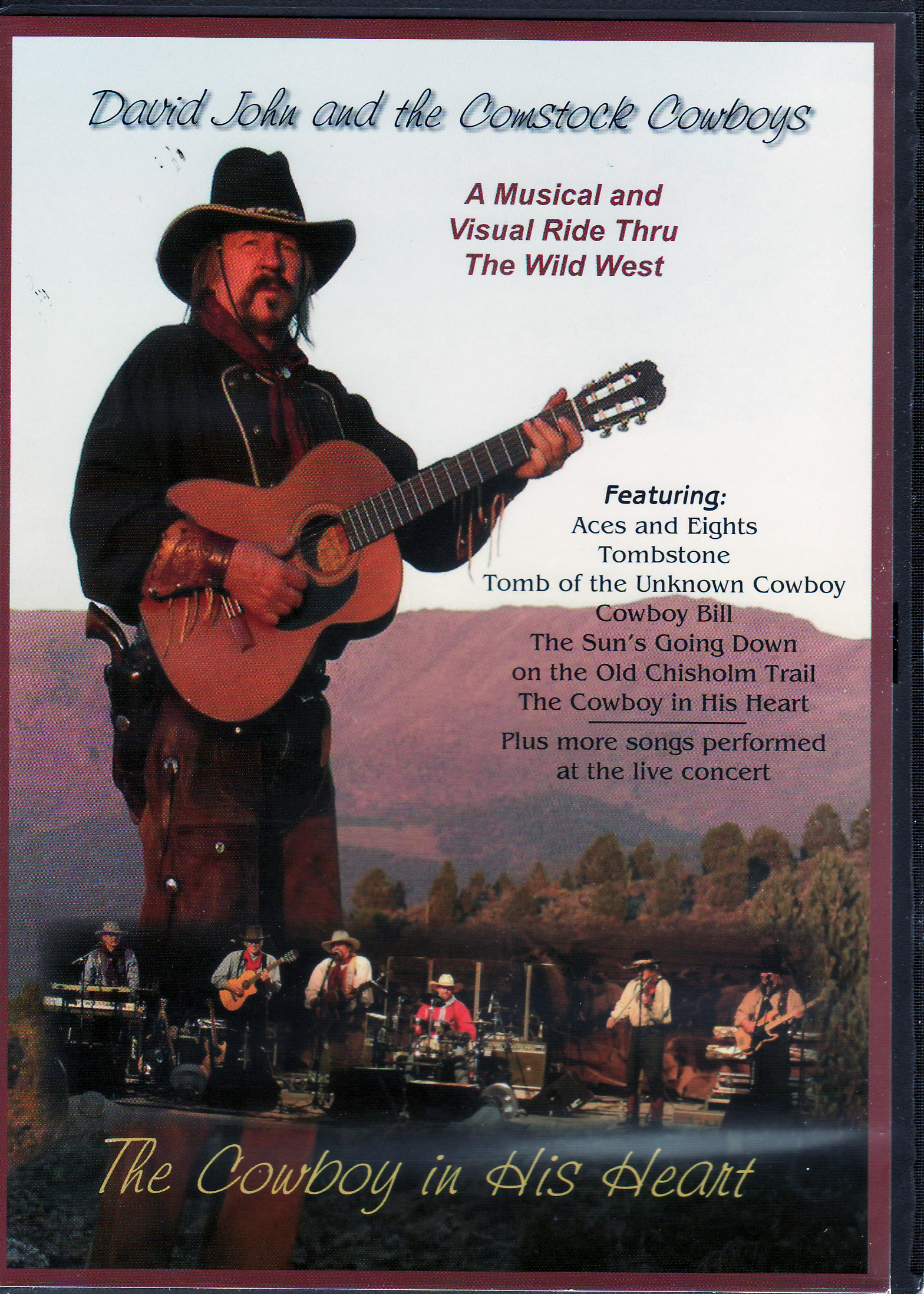 A Musical and Visual Ride thru the Wild West Featuring:
David John and The Comstock Cowboys.

Songs featured on DVD:
Ace's and Eights,
Tombstone,
Tomb of the Unknown Cowboy,
Cowboy Bill,
Old Chisholm Trail,
The Cowboy in His Heart.
Plus seven songs performed at a live concert.

To order products click on the order form page.

Copyright ©2015 David John and the Comstock Cowboys
All rights reserved.