Please wait for our music to load.
| Welcome | David John | Comstock Cowboys | Products | Order Form | Shirts | Calendar | Booking | Contact | Calico | Links | Feedback | Fan Club |


A Wild West Musical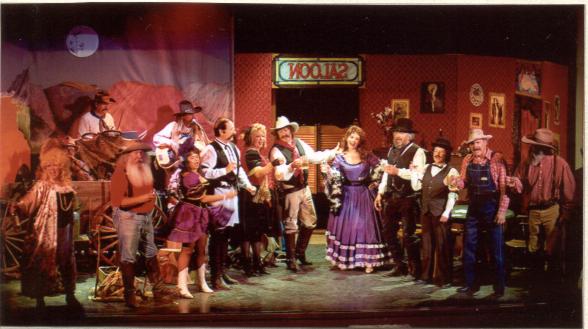 the cast of Calico singing "She sure was a hellava town"
"Calico", with fourteen original songs written by David John and the Comstock Cowboys, is presented by Aztec Productions and is based on "a man refusing to yield to a changing world in the late 1880's; the end of the cattle drives in Texas; and a town standing in the path of the 20thCentury"
The Author/Composer, singer, and songwriter, David John, has a career spanning from New York to Nashville, and Los Angeles to Virginia City. His songs tell of life, death, horses and cowboys. "Calico" is the first stage production, and like his songs, reflects a time when life was simpler, the pace slower, the men tougher, and the West was truly "Wild".
There are many interesting characters among the cast, and they all have a great time on stage with David John & the Comstock Cowboys. The genuine enthusiasm of the cast is contagious, and quickly draws the audience into the storyline. The romantic songs, including "Texas Rag", "Red River", "Chisholm Trail", "Take the Money and Run", and "Can't take the Cow from the Cowboy", reflect a longing David John has for the "good ol'days"
In the opening scene, David John enters the darkened stage, with stars twinkling in the
background singing "On a Night Like This", followed by "That's When I Miss Her Most of All". The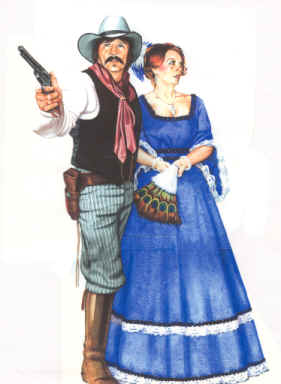 band is creatively situated among the sagebrush behind a campsite, complete with bedrolls, saddle, and coffee brewing over the campfire. The next scene has David John entering the saloon in the cow town of Calico, complete with saloon girls, gunfighters and gamblers dressed in authentic 1880's attire. The stage scenery, by artists John Hunt and Marcy Wheeler-Liska, and set designer Dianne McCullough, reflects the era.
Directed by Melody Patterson-Miller whose credits range from the television show "F-Troop" to the stage production of "Annie Get Your Gun". "Calico" is exciting, and the performance is lively. This entertaining musical production is sure to please audiences of all ages!
-by Kathy Sholer Stiles Nataqua News, 1998
Copyright ©2015 David John and the Comstock Cowboys
All rights reserved.